I am honored to be participating in Karen Valentine's "Where Bloggers Create - A Blog Party.  You can either click on the above photo, the one on my sidebar or visit Karen on her blog 
mydesertcottage.blogspot
.  It was inspired by the publication "Where Women Create" and if you don't have a copy - run don't walk to get one.  In the meantime, check out all the other bloggers who are participating.
Now, on to my creative space which actually is the basement!  This is where all things Kdottie Designs, Deconstructed and Beverly Hills Annex are created.  So, come on down the stairs and Welcome: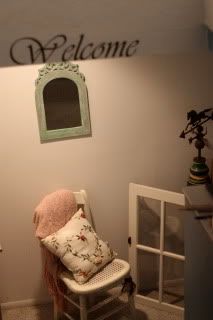 You will see the fantastic windows we found at a flea market while visiting in Nashville: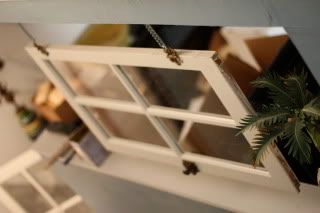 Around the corner is where we create and fill orders for our Malibu Hair Ties and Hair bands: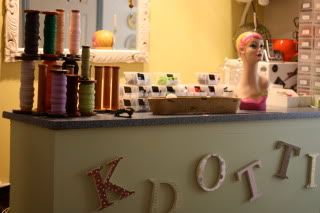 This is a better shot of the letters (which are all in different polka-dot patterns) that hang on the front of the bar.  Yes, it used to be a bar before we took over the basement.  However, there is a refrigerator behind the bar where you can still find a bottle of wine or two......you know when you have a creative block or maybe for a little celebration at the end of a new creation!
A closer look at the wooden spindles that hold the Malibu Tie/Headband material.  There are some empty ones that I need to get filled with material.
  The extra material sits here just haunting me: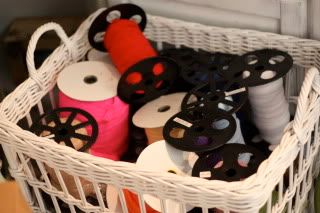 'll get to it...no worries!
Here is a little more of the material waiting it's turn to be made into ties and headbands:
I need to introduce you to "Corrine" - she is our model for our hair bands - isn't she beautiful?  She just hangs out wearing her head band proudly, always with a slight smile, never complaining.  Just waiting for her big break to be discovered.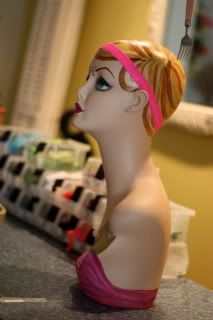 Heading on in to the main work shop - this is our work table.  This is where most of the creating is done - well maybe, except for the shower. LOL  I always think better in the shower, do you?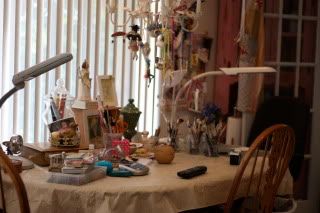 I showed two different angles of the table.  There are a few items in these pictures I want to show you individually.  First, our chandelier:
  We have many inspirational items hanging from it, baby shoes (Ashley's) and a few fairies.  Here is a closer look:
You might have noticed "Annabelle" over in the corner.  She is our dress form that proudly is wearing my grandmas dress and apron and a few accessories that Ashley added to update the look!
This is the pretty hutch I found that holds all the paint I use for the fairy doors:
  It looks like an old fashioned jukebox, doesn't it?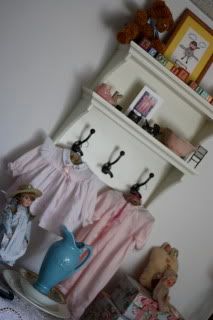 I keep all my fairy door samples hung here!
I have my Mom's wedding dress hanging in our workshop - to add a touch of vintage and a touch of my Mom!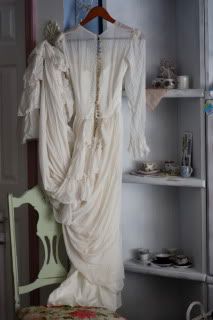 A close up of the back------------oh, the buttons!
Finally, a peek through the french doors that lead to the "inner sanctum".  I'm just kidding - these doors lead to our offices.  You know, where all the UN-FUN work is done - like PAPERWORK, BILLS, ETC!  Yuk.
We weren't quite sure what to do with it - so hanging it here seemed like a good thing to do!  Oh, I forgot to tell you - it opens!  I just need to get a painting or something to put behind the doors:
Oh, I could go on and on but I think I have taken up enough of your time.  I hope you enjoyed our tour. Please visit us again and visit our website which is in the process of being redone.  It should be up within the next couple of days.. . . it has a new look!  Keep checking!
Don't forget to visit Karen and their other participants.
Have a good day and a better tomorrow!
xoxoxoxox
Caren