Welcome to another Pink Saturday!  For those of you who read my blog regularly know I have a new grand niece, Bryar!  And for those who are new to my blog - scroll down a few Pink Saturdays ago and you can read all about her.
Bryar is 3 weeks and 2 days today!  She has finally reached a little over 5 pounds!  Yay!  That's an accomplishment when you were only 4 pounds something to begin with and 6 weeks premature.  Well anyway, she is now at home with her Mom, Dad, Big Brother Brayden and Big Sister Brynley!   
I know you can't wait to see new pictures!
Here is where the SWEET PEA comes in:
She looks like she is in her little pea pod!
I thought maybe she needed to stretch since she was getting wiggly.  I unwrapped her and boy, was I right!  She started doing her Tai chi: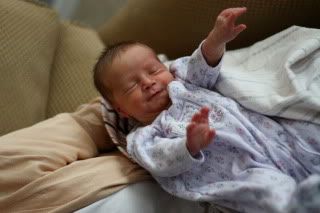 She was really enjoying it!
And maybe a few waist twists!  A girl has to start early, you know....even if you are only a little breath of air!
I was telling Bryar how pretty she was and when she grew up she was going to be a PRINCESS, just like her Auntie Caren (that's me)lol  She seemed to like that story!
We just kept telling her stories and telling her stories. All about what a lucky little girl she was, how much we love her and how much joy she has brought to our lives.  Things started out a little rough in the beginning of her little life, but all is well now!  Of course, I had to keep telling her she was beautiful and that she looked so much like her big sister Brynley!  I also whispered to her that she was going to always be "a little sweet pea".  She said to me - "Oh, stop!  You are embarrassing me!" and then she smiled!  So coy!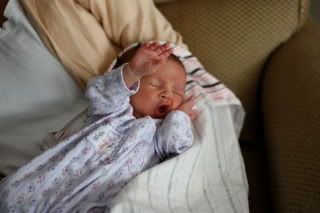 Then, the tides turned!  Only for a second or two!  She was definitely finished with the pictures and my stories!  How could that be?
Actually, she doesn't really cry - she kind of squeeks!  It almost sounds like a baby dolphin.
Like I said, that didn't last long.  She then told me, "Oh, that was such hard work - you can continue with your stories and telling me how beautiful I am.  I'll just lay here in your arms and listen".
"Or, perhaps take a little baby nap"
I hope you all have enjoyed the "BRYAR UPDATE".  Please visit Beverly 
howsweetthesound.typepad.com
 for all the other Pink Saturday participants.
Have a good day and a better tomorrow!
xoxoxoxoxox
Caren