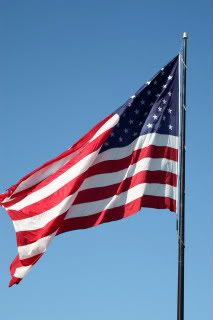 Continuing my SIMPLE theme....... Our flag looks simple enough flying there all by itself in the breeze. However, if you think about all the things our flag stands for, it's anything but simple.
I would like to know why there are so many hungry and homeless VETERANS in our country when the prisoners who murder, rape, rob, abuse, etc. are given 3 meals a day, a bed and a warm place to live.
This makes me sad.  :(
                                    HAPPY VETERANS DAY!!!!