SIMPLE . . . . . . . . . . . . . . . . not involved or complicated
That's what I have decided to blog about for the next few posts.  Just simple little things - some things that make me happy and some - not so much.  Some that make me laugh and some that make me cry.
I don't have very many profound thoughts, I am not a deep thinker, I am not going to solve world peace, as a matter of fact my thoughts are more like "pop-up videos", I have random thoughts. Nothing very important. 
So join me, if you will for simple things..........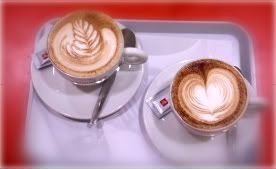 This makes me HAPPY!
 My cappuccino in Paris. That seems simple enough. However, the design they so carefully put on each cappuccino doesn't seem simple.  The barrister made it look simple - I guess it was to him.  It was just SIMPLY delicious to me!
Check back soon to find out my other simple things.  In the meantime....
Have a great day and a better tomorrow!
xoxoxoxox
Caren