Our PINK SATURDAY hostess, BEVERLY, had a great idea for each  Pink Saturday in December.  Each week she presents a theme for us to blog about. This week we are to share a favorite childhood holiday memory.
I remember when I was a little girl, my Dad's side of the family came over to our house every Christmas Eve.  My sisters and I were so excited all day....probably driving our Mom nuts!  She was so busy preparing all the food and setting the table "just right".  She always wore a special Christmas apron that her Mother made for her each year.  Seems to me they were always red.
Anyway, my sister, Cathy and I would sit in front of the huge window (I believe they called them "picture windows) that was in our living room.  We would practically have our noses against it just waiting and watching for everyone to arrive - while trying not to knock down the Christmas tree which also sat in front of the window!  It seems like hours just sitting there waiting.  We also were convinced it was going to snow - after all it was Christmas.  However, it very rarely did such a thing - we lived in Oklahoma and it didn't snow often. But we had hope!!
After everyone arrived we would eat and then each take turns opening our presents - one person at a time.  My Grandma would always joke that she had to wait so long since she was the oldest.  However, I don't think she minded too much because that gave her more time to enjoy her EGG NOG. I always wondered why we couldn't have any of hers - now I know it was spiked with whisky - lol!
After they all left and my Mom and Dad were busy cleaning up everything, we would return to the same window and watch for Santa Claus.  Of course, we always KNEW we saw him in the sky - sleigh and reindeer too.  Then we would go to bed and had such a hard time falling asleep knowing Santa would be there any minute - after all we DID just see him in the sky!
Today, I am sharing a Pink House that we keep under the little Christmas trees we have on the landing upstairs.....it even has a pink poodle: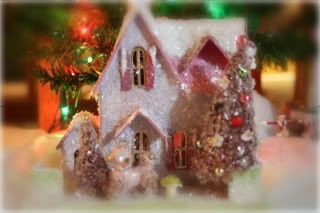 I'm off to visit and enjoy the memories of other Pink Saturday participants - you should join me!
Have a wonderful day and a better tomorrow!
xoxoxoxoxox
Caren