While we were in Italy last fall, we found the cutest little shop, so of course we had to check it out. We were minding our own business and enjoying the store, when out of the blue my allergies decided to kick in. 
The harder I tried not to cough the worse it got.  I must explain that since I had whopping cough a few years ago, my cough sounds much worse than it really should.  Ashley always tells me that when I start coughing, I can clear a room. Actually, that could work to my advantage - LOL.  The bark is MUCH worse than the bite.
I think the poor lady that owned the store thought I was about to die.  I didn't know how to tell her that everything was okay - it was just my allergies. But whoops, I don't speak Italian and she didn't speak a word of English.  She kept frantically running around the store waving her arms, which made me laugh causing me to cough harder.
Finally, she ran into the back room of the store and came back with a cup of water - spilling it all the way.  It helped a bit, but if she had just calmed down, it would have helped me more.  I couldn't stop laughing/coughing.  It was a scene from a comedy.  All the while, Ashley was laughing at me, laughing at her. Mark was in another store and missed the whole thing. 
I felt so bad to have caused her such anguish that I thought I needed to buy something.  So I grabbed the first thing I saw (thank goodness it wasn't expensive) and bought it.  We lovingly refer to her as "Lady Mushroom".  The hat she is "sporting" is a mushroom. Thank goodness she has a PINK dress!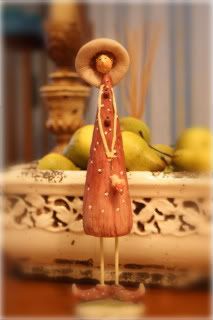 Here's a closer look at her face and absolutely wonderful shoes: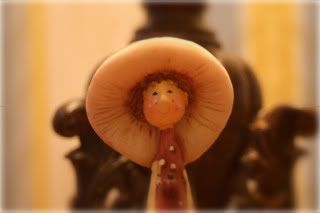 As we were leaving, the lady called out "Buongiorno".  I replied "Buongiorno" and she replied "Buongiono" and I again replied "Buongiorno".  This went on for a few more "Buongiono's". I think she probably meant "Please, get the h*** out of my shop, you silly American!"
After we left her shop, I thought to myself - what in the world am I going to do with a "mushroom headed lady"?  I surely didn't need her.  However, she has become an important part of my morning ritual.  While making my coffee I look at her, smile and say "Buongiono"!  Maybe I should add a little cough for old times sake.
Please visit Beverly to visit all the other Pink participants!
Have a good day and a better tomorrow!
xoxoxox
caren