Happy Pink Saturday and early Valentine's Day!  Our wonderful hostess BEVERLY, has been a little under the weather and I would like to send her many thoughts and prayers for a speedy recovery.  However, being the person that she is, she managed to keep Pink Saturday up and running.  Thank you Beverly.  Also, don't forget to visit her and the other Pink Participants.
Today our challenge was to show something to do with Valentine's Day.  Since we have not celebrated it yet I didn't want to give away my secrets, just in case some one in my family might sneak a peek at this post :)  
I am sharing a Valentine Hello Kitty picture Ashley, my daughter sent to Noodle,our dog several years ago.  Ashley was living in LA at the time and couldn't be with Noodle on Valentine's Day, so why not color her a picture of Hello Kitty!!!!  This picture hangs above Noodle's dog bowls so she has something to look at while she is eating.  Yes, it is still hanging there!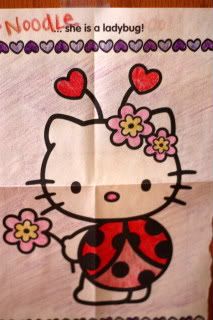 Hope you all have a wonderful Pink Saturday and Happy Valentine's Day!
Have a good day and a better tomorrow!
xoxoxoxoxox
Caren