Hi Everyone!  It seems as if I have been away forever.  We have been out of town a lot in the past month so I have missed quite a few Pink Saturdays.  I hope everyone didn't forget me : (
Today I am going to share PINK FAIRY HATS!  Actually this is a picture from about a year ago.  My daughter, Ashley took my great-niece, Brynley to "TINKERBELL ON ICE" - of course they each had to have a FAIRY HAT. Girls certainly must be dressed appropriately for the fairies.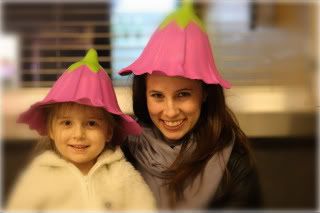 Not only did they buy Fairy Hats but I believe they had a lot of popcorn, cotton candy, nachos and whatever else was available.  LOL    I'm not quite sure who had a better time, Ashley or Brynley!!  
Please check out the other Pink Participants by visiting BEVERLY, our wonderful hostess.
Have a great day and a better tomorrow!
xoxoxoxox
Caren (Ashley and Brynley, too)
p.s. I'm glad to be back