First, HAPPY MOTHER'S DAY to everyone who is a mother, grandmother, aunt (I count them too) and anyone else who considers yourself a mother : )     I hope you all have a wonderful day.  I am so blessed that Ashley is home with me to celebrate.
Today I am sharing my new hanging baskets.  I recently bought them for our front porch after my friend told me the wonders of "Mandevilla" flowers.  I love them and can't wait for the hummingbirds to discover them.  It will be a feast!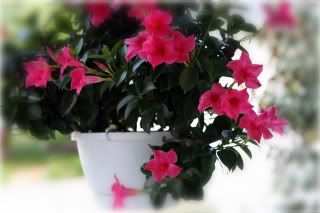 Don't forget to visit Beverly and the other Pink Participants.
Have a wonderful day and a better tomorrow!
xoxoxoxoxox
Caren