Happy Pink Saturday!  Again, it has been a little while since I have posted.  We have been out of town - this time we went to Los Angeles to attend the Rose Bowl flea market.  We got hooked on this fantastic flea market when Ashley was living in LA.  So, today I am going to show you a few PINK things I thought were interesting while walking around.
A little dog bed  - I'm sure Noodle wouldn't sleep in it but it was CUTE and PINK!
I was standing by a huge tree (trying to get a little relief from the sun) watching these people struggle with this piece of fabric.  They had it every which way and I think trying to figure out how many yards were included. Not sure they bought it but I knew I needed to take a picture for Pink Saturday.  What do you think they were going to do with the material?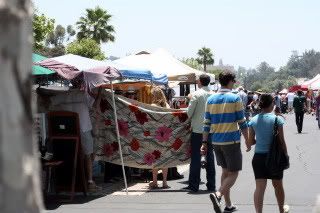 The next PINK picture I have to show you is a lady who really likes her "scrunches"!  That's all I need to say...............
Don't forget to visit Beverly to visit all the other PINK participants!
Have a terrific day and a better tomorrow!
xoxoxoxoxoxoxo
Caren