Another week gone by......each one gets faster and faster.  It's Pink Saturday time again and this week I am sharing a quilt.  I would like to say I made it. However, anyone who knows me very well would know that couldn't possibly be true!  I bought it at the flea market in Santa Monica when Ashley lived in Marina del Rey.  I just couldn't pass it up.  : )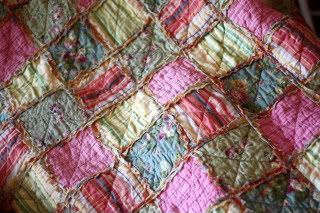 I just love the colors - here's a closer look:
Please visit BEVERLY, our wonderful hostess and then visit as many other blogs as you can - there's a lot!
Have a wonderful day and a better tomorrow!
xoxoxox
Caren