Happy Pink Saturday!!  Hope everyone is staying cool.  It is very HOT and HUMID here  :(
Earlier this summer we returned to Los Angeles for a little vacation.  Usually we go there for business, so it was great just to relax.  Once again, we stayed at one of our favorite hotels, The Langham.  We love it because it is PINK (a subtle pink).  I am so sorry, I forgot to take a picture of our room but hope you enjoy the rest of the tour.
This is the walkway into the lobby:
The lobby - the flowers change everyday and of course they are always PINK:
These are the beautiful gardens which are right off the lobby:
Even the room service menu was pink : )
The walkway to the pool: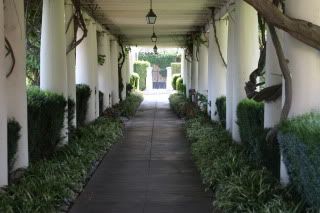 The pool - someone was kind enough to bring their pink raft!
We had breakfast every morning at this restaurant which overlooks the pool.  It had the most fabulous scones. 
Beautiful paintings were hanging on the walls leading to our room.  After passing by this particular one many times, Ashley and I couldn't pass the opportunity to add to the painting:
Don't worry, we made sure no one was coming down the hall!
Please visit Beverly to find many more people who like pink!
Have a fantastic day and a better tomorrow!
xoxoxoxoxox
Caren